You are currently looking at the PREMIUM plan, which includes editable Canva links and PDF downloads for all Infographic Modules (General Functional Medicine, GI Tract and Detox, Mitochondria and Neurology, Hormone Signaling)
🎨 Immediate access to 56 editable Canva template links and PDF downloads for Infographics
⭐️ New Infographics released monthly
👏 Complimentary 1:1 Mentoring Session with Lara with personalized Action Plan
🙌 75% discount on current and future courses Right Brain Rescue
📖 FREE Digital Copy of Right Brain Rescue book
🎙 Guest interview spot on Catalyst™ podcast
🎓 Biweekly messages with VIP content sent to you from inside the Catalyst Studio™ Mentorship to help you organize, optimize, streamline, and become anti-burnout. It's like a mini-mentorship in your inbox!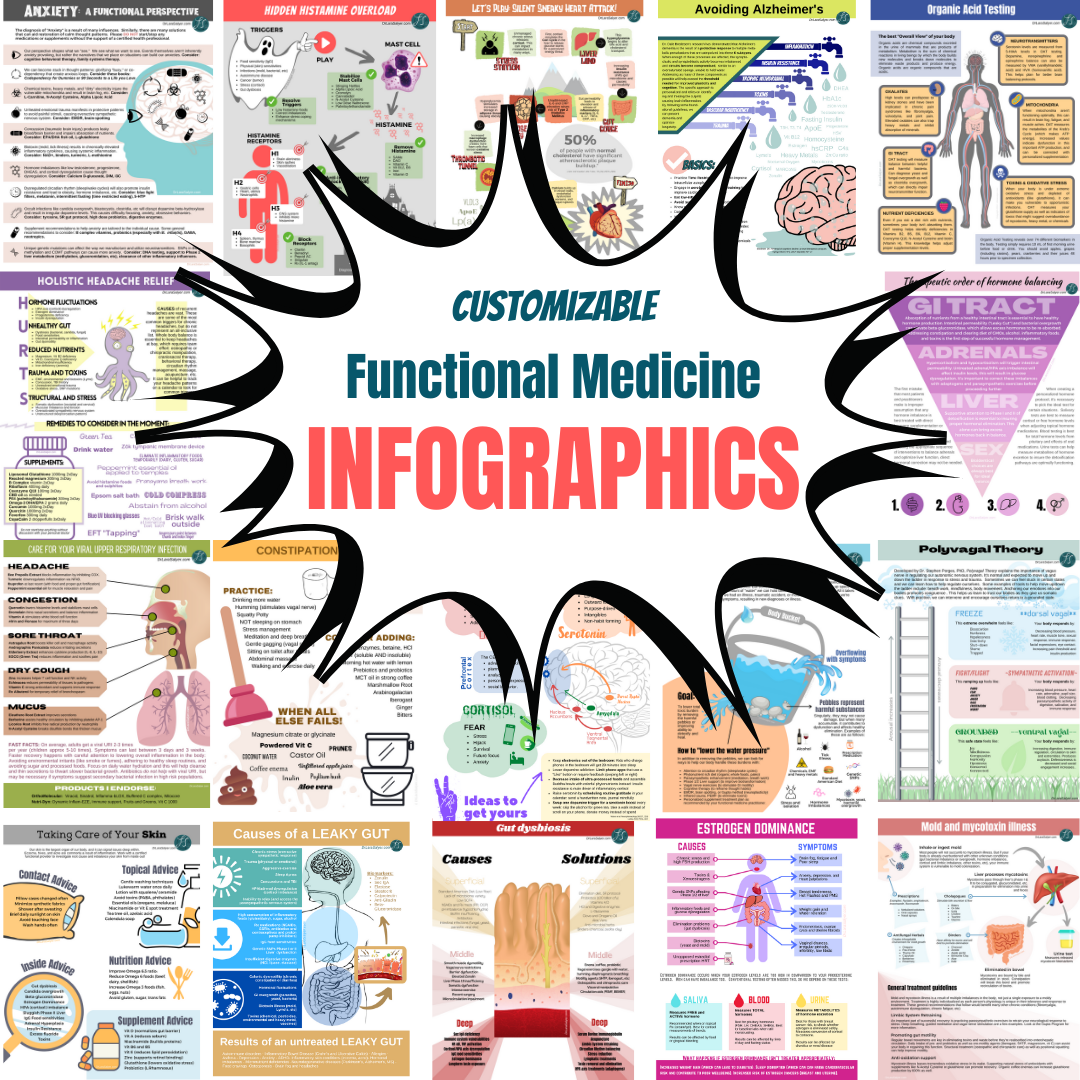 Painting Happy Little Cytokines all throughout the pages of your patient education 🎨 It's my goal to make holistic medicine as easy to understand as a picture book. In these courses, you have access to DOZENS of hi-resolution graphics in PDF format so you can:


👉 Spend LESS TIME explaining
👉 Improve PATIENT UNDERSTANDING
👉 Make your ZOOM WORKSHOPS or lectures UNFORGETTABLE
👉 Craft an IRRESISTIBLE SOCIAL MEDIA PRESENCE
👉 Download and print to IMPROVE LEARNING and RETENTION for your practice
👉 Create LEAD MAGNETS for NEW PATIENT ACQUISITION

New Infographics released MONTHLY

PREMIUM subscription includes the following categories:
(click each to view topics)

Infographic and Subscription Suggestion Box

In an effort to make this the best way to support your sanity and streamline your practice, I appreciate your opinions. Thank you for submitting your ideas here!

Frequently Asked Questions:
Q. How many infographics are included?

The very moment you subscribe, you'll gain access to 56 functional medicine infographics and their editable Canva links! Each month, you'll receive a new infographic release. (These will not be available without a subscription.) 😍


Q: How long do I have access?

As long as your subscription is current, you have access to edit and download all images in Canva as well as ANY NEW INFOGRAPHICS launched monthly! Your Premium subscription will run indefinitely until you cancel it. Once your subscription is canceled, your access will be terminated.👌🏻


Q. What's so great about Premium Subscription (compared to Standard)??
With Premium Subscription, you have the ability to edit text, change colors, font, and add your logo! It's the ultimate in creative agency!

BUT THAT'S NOT ALL.....😉

You also get a FREE 1:1 mentoring session with me (with a personalized Action Plan of next steps). In addition to a free digital copy of Right Brain Rescue, you'll receive a special coupon for deep discounts off any DIY course here at Right Brain Rescue, so you can get the blueprints on transitioning to a Membership Model, Learn how to hire your first VA, or more. Most importantly, you'll receive monthly messages right from the inside of our cozy Catalyst™ Studio mentorship filled with tips, tricks and inspiration to get your micropractice humming! ❤️
Q. How will I know when new infographics are released?
Don't worry--you won't miss anything. Whenever there's a new infographic added to our collection, you'll be sent a message in your account here at Right Brain Rescue. ✉️


Q. I'm trying to log in, but it's saying "course closed". Help!
You might need to check your email or browser that you're using. This subscription access will only work if you log in using the email address you original registration. Check your inbox for that receipt. If you need further assistance, we're happy to help: [email protected] 💌

Q. Can I make a request for a new infographic?
I love ideas (we have over 70,000 per day!). I keep a long queue of infographics waiting to be born into this world. Please send your ideas to [email protected] and we'll get working on it!  🏆



Q. How can I use these infographics in my practice?
So many ways to use Infographics! I've personally used them as enticing downlodables for opt-ins from my website, social media graphics, visual blog posts, background for PowerPoint presentations, patient handouts in my clinic, newsletter campaigns, and business flyers to advertise services. 🤩

You'll receive instructions on how to edit these images in Canva before downloading. You'll also receive a .png image which is perfect to share on social media! As a Premium Subscriber, you'll be getting newsletters every month with locked content from within our mentorship, Catalyst™ Studio. If you'd like more support with innovative ways to run a micropractice that's creative and authentic, book a Discovery Call to join our Catalyst™ Mentorship!
Q. Are there any restrictions or limitations for using these infographics?
By enrolling in this subscription, these terms and conditions apply: These infographics are licensed for personal use only (to be used in your private practice or business). Infographics can be used on social media (Facebook, Instagram, TikTok, Pinterest, etc) as long as original artwork is attributed to DrLaraSalyer (either by tagging in the post or keeping the watermark on the image). If you are seeking larger applications (book publishing, franchising, etc) for monetary gain, separate copyright licensing is available upon request. Contact [email protected]
Q. I'm a health practitioner who wants more creative flow, where can I learn more about Catalyst™ Mentorship?
Join our free Catalyst Collective FB group, and follow me on Instagram or TikTok as I share easy snippets to bring creativity into your work/life masterpiece. If you'd like to peek inside what is offered in the Catalyst™ Studio, you can visit here.



Q. Are there refunds?
There are no refunds. If you'd like to terminate your subscription, you can do this in the dashboard section (accounts billing) on Right Brain Rescue.
Q. When do I get my discount coupon for additional courses?
Once you enroll in Premium Subscription, you'll get a "Thank You" notification. This will contain the important code to apply at checkout for 75% discount on all courses at Right Brain Rescue. 💵
Q. How do I book my spot on the Catalyst Podcast?
Guest appearances on the Catalyst podcast are a great way to enhance exposure and visibility for your work/life masterpiece! Once you enroll in Premium Subscription, you'll receive a link to submit your information and book your spot! 🎙
Q. Where do I get my free digital copy of Right Brain Rescue?
You'll receive the link to read the PDF memoir on the "Thank You" page after enrolling in Premium subscription. 📖
Q. What if I'm having trouble with a course or lesson?
Sometimes technology is glitchy, links can break, or instructions aren't as clear as possible. If you are experiencing trouble, please email [email protected]


Q: What if I already purchased Volume 1 or Volume 2 Infographics? Will there be a Volume 3?
Since my first Functional Medicine lecture in 2016, I've been creating Infographics with glee. I especially love making them with editable capability so practitioners can put their own logo and branding on it.

Previously, I was forced to wait until I had enough infographics collected to publish a "Bundle" of 25-30 graphics. Over the last 8 years, our feedback surveys indicated that practitioners preferred a subscription model for affordability and ease. This also allows immediate access as the infographics are made!

There will not be a Volume 3. Those new infographics previously intended for Volume 3 have been placed into this subscription instead.
Any new infographics will be by subscription only.

If you've already purchased one of the Infographic Bundles (Volume 1 or 2) this year, you'll still have access to that old content. If you haven't been contacted already, please email [email protected].