Introduction and history

Hi! My name is Lara Salyer.
I help practitioners build their own creative, organized and efficient medical practice.
One of my honorary nicknames from colleagues is the "Bob Ross of Functional Medicine." I suppose that's accurate! I give practitioners the brushes and colors, then teach them how to paint a colorful career. "Here's a happy little medical practice....there's a happy little medical practice...."
I'm a small-town ex-family physician who strategically resigned from my employed position in 2016 to open a holistic private practice in functional medicine. I'm married to a physician and I'm a mom of three in the rural Midwest. This means I am organized and practical about everything I do, but I maintain humor and play in my life.
I even wrote a bestselling memoir about it!
I believe "a patient's health is directly proportional to their physician's teaching ability". I leveraged technology to build a unique micropractice by hosting innovative group medical visits, online health education, as well as traditional individual services.
When I'm not involved in patient care, I write, draw, and speak about the intersection of creative flow state and medicine.
One of my favorite things is to partner with enthusiastic practitioners which is why you're reading this! Why recreate the color wheel when I can help you succeed faster?
There are many great mentorships in the functional medicine space.
Unfortunately, many of them are disappointing because they:
are cost prohibitive (many between $6,000 -$20,000)

overload you with too much information

without practical application.
require hours of self-paced material to weed through
don't supply templates to streamline your efficiency right NOW
may not include private coaching AND group masterminds
don't help with all areas of running a practice (marketing, patient onboarding, systems efficiency, burnout proofing, etc)
utilize a dogmatic approach without flexibility or creativity
This is why I designed my Ultimate Mentorship completely unlike anything offered.
I have experience building a high-touch, high-tech micropractice in a rural community, and I share my best tips for those medical entrepreneurs ready to bloom. My mentorship is completely personalized and happens at the pace you need, tailored to exactly what you're seeking at the time. We'll meet as little or often as you need to shrink that timeline to allow faster momentum and success.
We are in the beginning of a medical Renaissance, where we embrace innovation, art and science to promote ultimate healing. This will require RADICAL CREATIVITY, and that's exactly what I offer for my (affectionately termed) "Radicals" enrolled in Mentorship. In addition to private coaching, we meet monthly for Studio Time on Zoom, where we go deep in brainstorming, facilitated discussion and deep dive in neuroscience of flow state so we can retain our vibrancy and avoid burnout.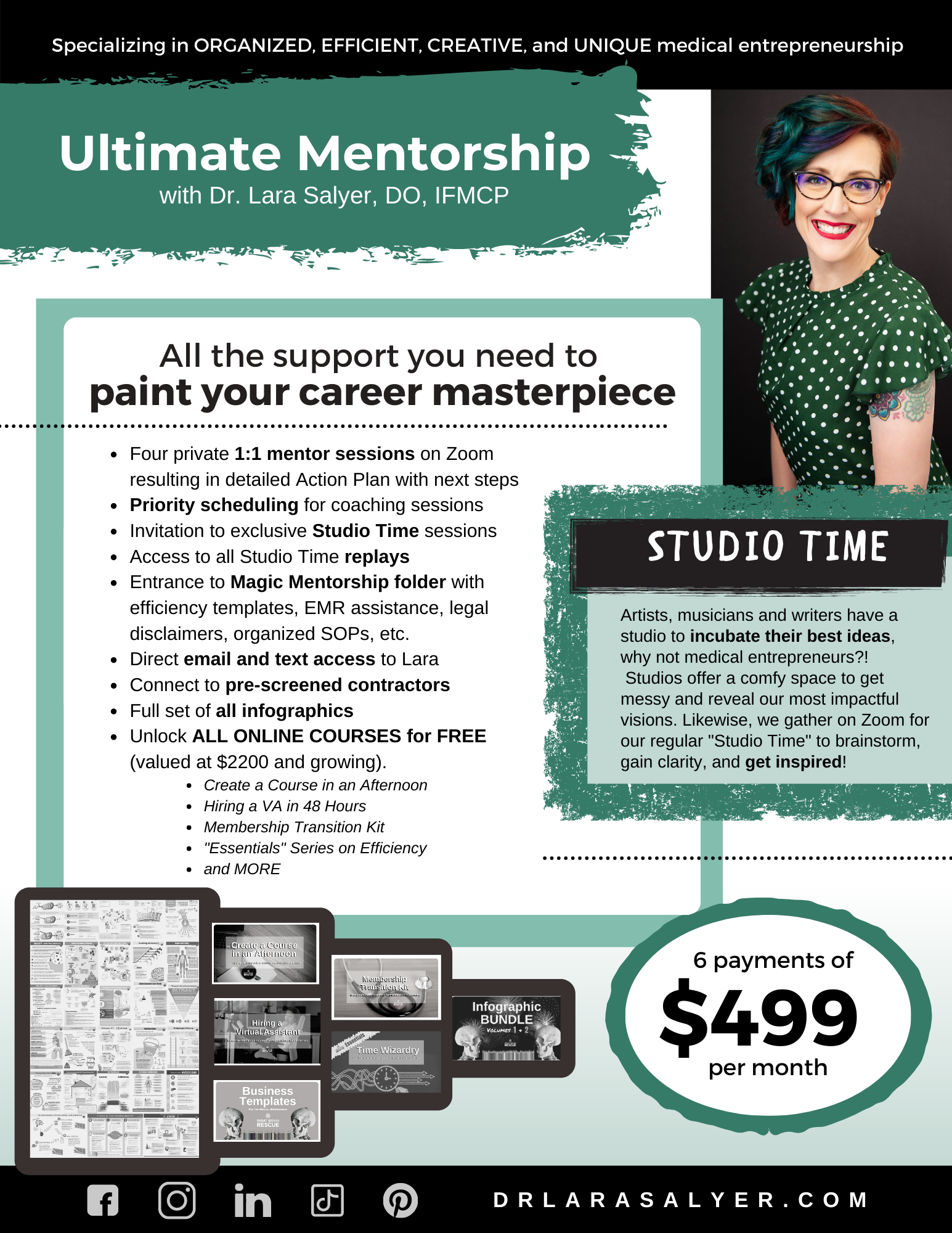 This free course contains my essential organizational tools that have helped me start my holistic membership practice, based on one premise:
A successful medical entrepreneur is an organized one.
The Grab-Grow-Go-Glow method, when implemented routinely, will allow you to build your holistic medical practice in a holistic way: you'll be fueling all four cornerstones of a successful business at once, without losing your mind or feeling overwhelmed.
When you're finished with this course, if you'd like more, please check out my expanded resource area with opportunities to take courses or sign up for mentorship that includes private coaching time as well!
Keep coloring outside those lines!
-Lara