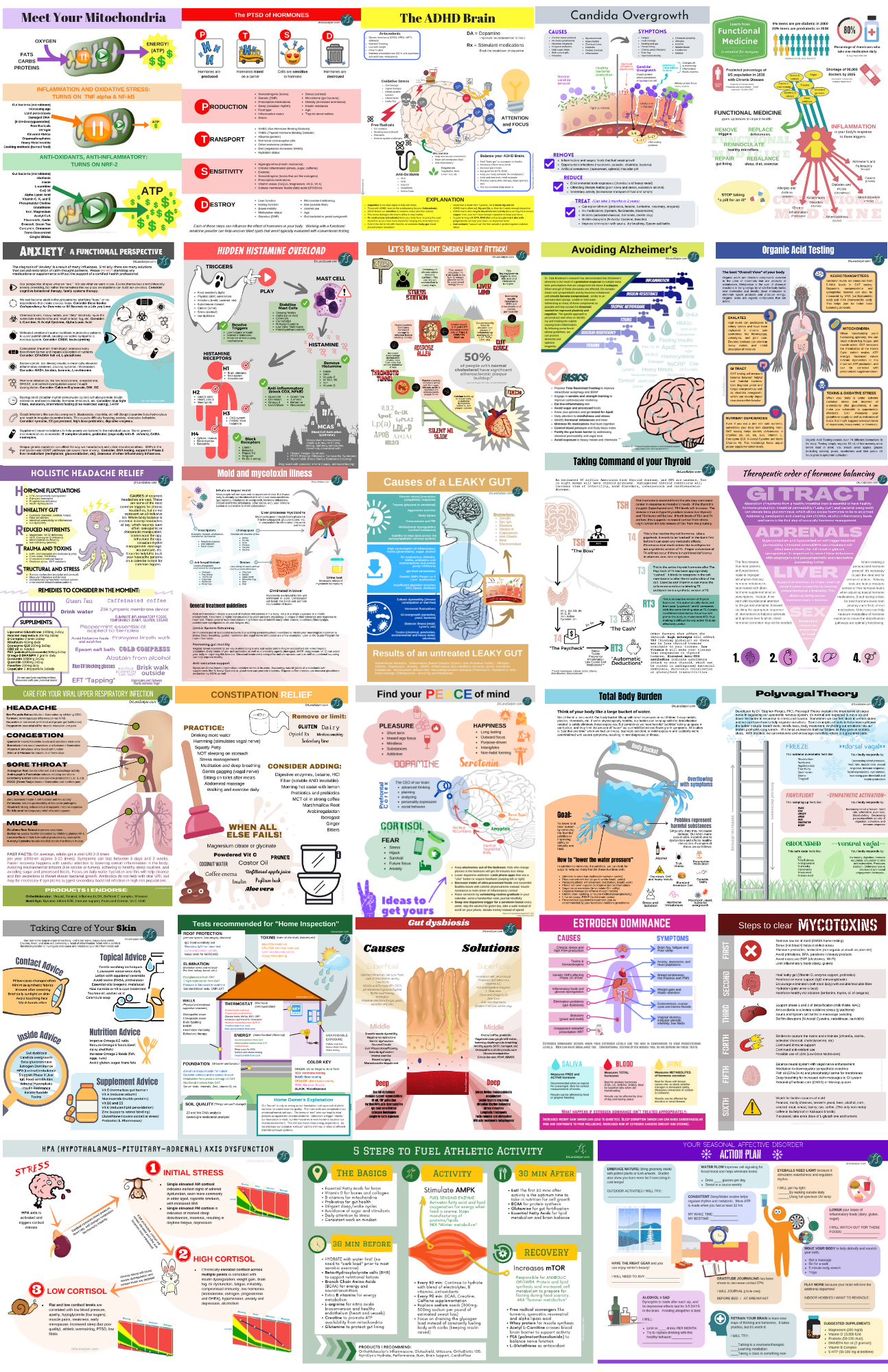 Imagine a world...
Where you have access to over 50 different infographics to help explain holistic medicine.
Topics include:
Intestinal Permeability
Estrogen Dominance
Polyvagal Theory
Histamine Overload
Thyroid Testing
Mycotoxin Treatment
Candida Overgrowth
Hormone Rebalancing
Neurotransmitters
HPA axis adaptogens
SAD Action Plan
Gut Dysbiosis
Headache Treatments
Alcohol influence
Anxiety in the brain
Alzheimer's
Cell Danger Response
Organic Acid Testing
Total Toxic Burden
Mitochondria
AND MORE
It's all here. AND you can edit and customize to suit your personality and communication style!
THE COMPLETE SET!


Understanding biochemistry of functional medicine can be difficult even for the astute medical provider!
When your patient doesn't grasp the basics, it can negatively impact their compliance and desired outcomes.
Adding colorful infographics to your delivery of medical care will save you time and make your visits FUN!
In this course, you have access to BOTH volume 1 and 2 of hi-resolution graphics in PDF and .png format so you can:
Spend LESS TIME explaining
Improve PATIENT UNDERSTANDING
Make your ZOOM WORKSHOPS or lectures UNFORGETTABLE
Craft an IRRESISTIBLE SOCIAL MEDIA PRESENCE
Download and print to IMPROVE LEARNING and RETENTION for your practice
Create LEAD MAGNETS for NEW PATIENT ACQUISITION


Each infographic also has a URL link to an EDITABLE CANVA TEMPLATE so you can change the image on your own!
INFOGRAPHICS VOLUME 1 and 2
Your discounted payment will allow access into both these courses!
By purchasing these infographics, you understand they are for clinical use only in patient handouts or lectures.
Images are in PDF and .png format and downloadable. You will also get access to a Canva template to edit if you prefer to make changes.
NEW IN 2021!
ADVANCED LICENSING AVAILABLE
to allow republication in articles, books, and online courses for monetary gain. Contact us to view agreement!