Tiny steps,
immense impact

Your medical career shouldn't consume you. The Catalyst Reclamation™ course walks you through the neuroscience of burnout and flow, which results in a simple framework to apply everyday. You will emerge as a flow-channeled, creative, organized, grounded, embodied, and boundaried physician without succumbing to your cortisol-fueled career.
This 3 step AHA! Method™ combines effective tenets from the Flow Research Collective and the most effective cortisol-lowering modalities rooted in Functional Medicine and polyvagal psychology.
You'll reclaim your energy, autonomy, and joy as you explore the comprehensive workbook of interactive & therapeutic art activities. It's unlike any other type of burnout self-help you've tried before.
If you're looking for a fresh, entertaining, and unique evidence-based program that gives you sustainable relief, this is it.
Let's catalyze transformation in your life and earn 10 hours of Category 1 AMA PRA CME Credit(s)™! (see below for details)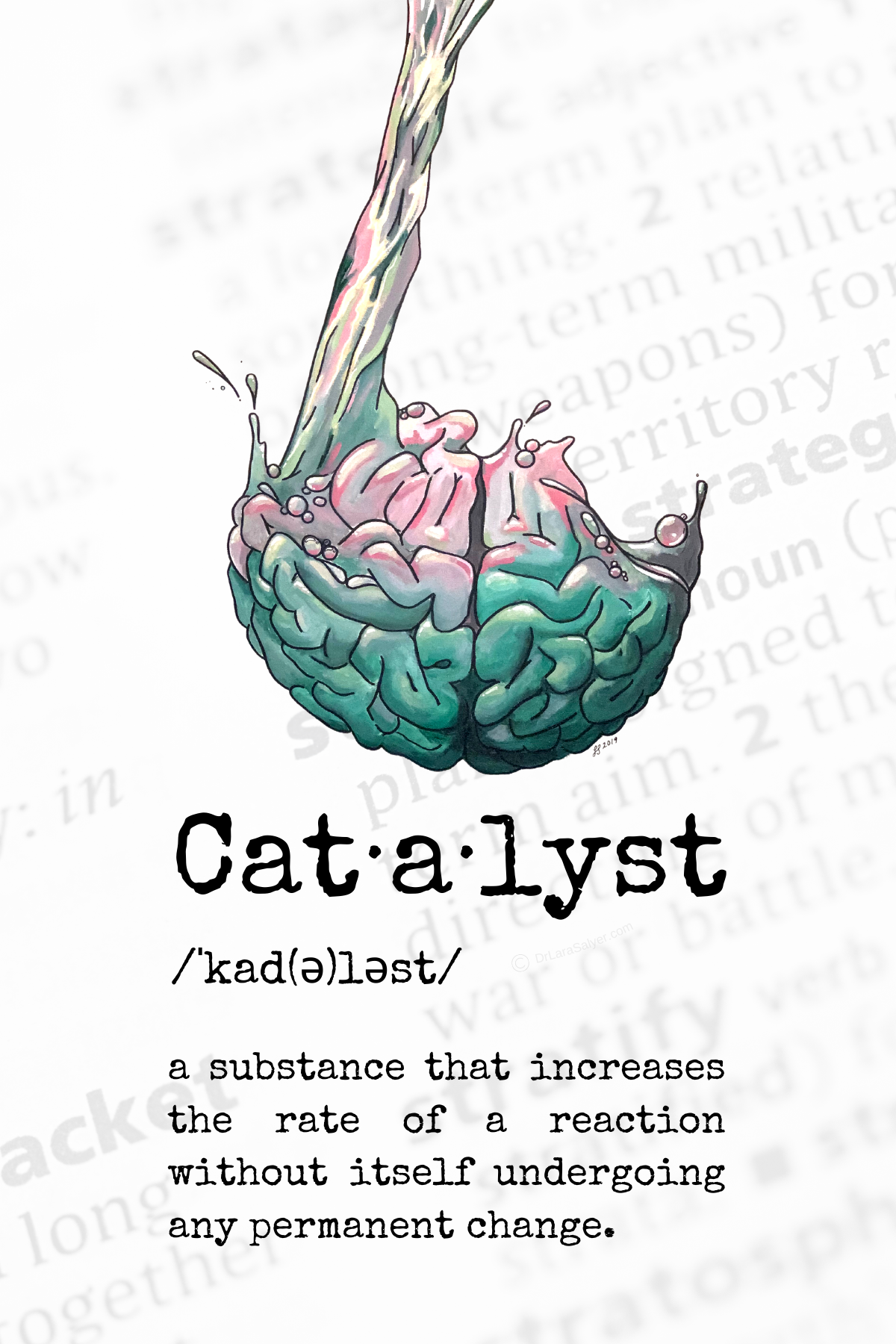 You deserve a work/life
that you LOVE

The Catalyst Reclamation™ course is for busy medical students, residents, or physicians who yearn to find themselves again inside the chaos of a medical career.


This course is perfect if you ...
💔 love your career but keeping this current hectic pace is not an option.
😍 want to reconnect to your joy and find opportunities for growth.
🤗 want to practice medicine in an authentic, innovative, and creative way.
🧭 want to feel in control of your life again and confident in your choices.
✨ want to feel renewed and enthusiastic about your future in medicine.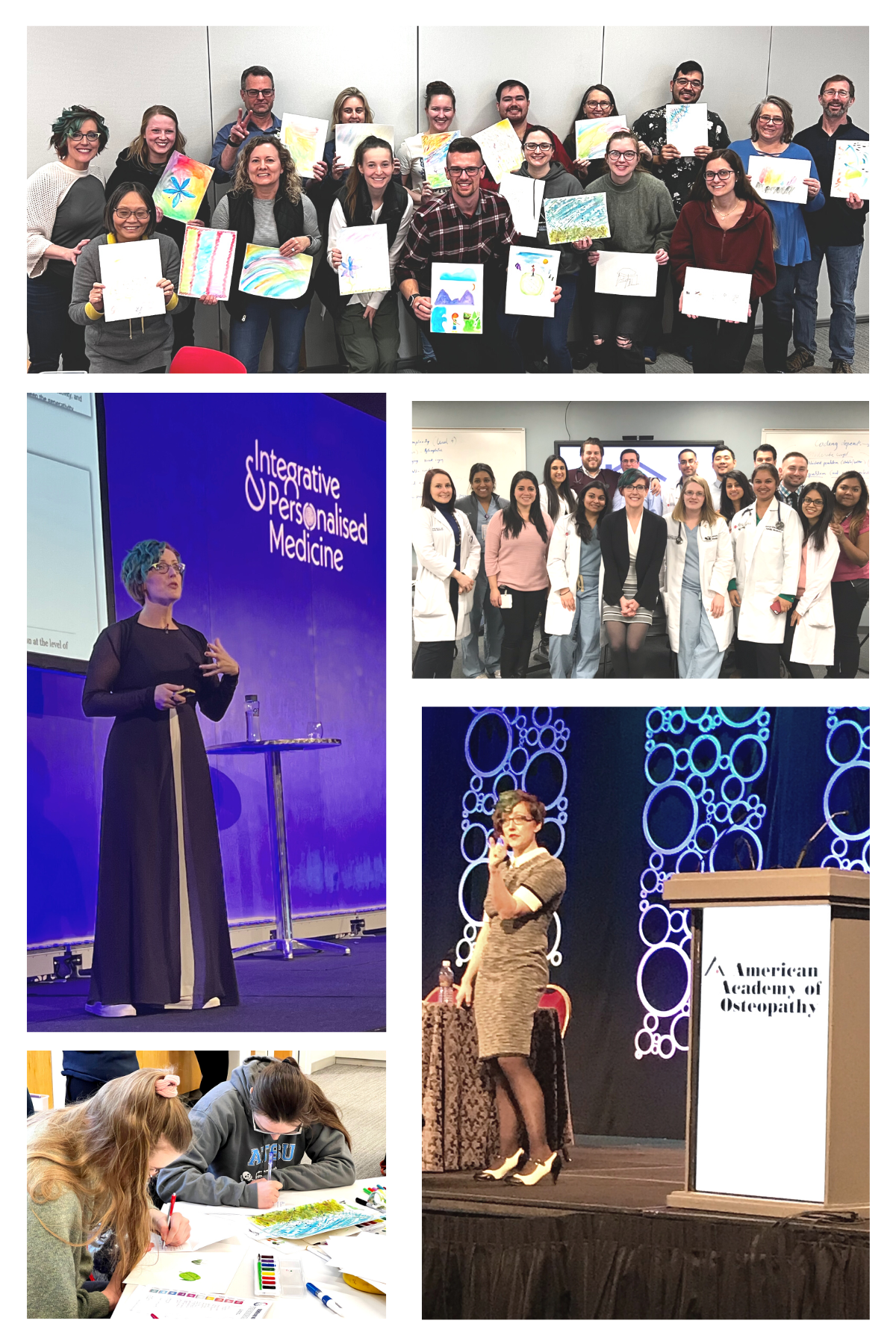 Lara Salyer, DO, IFMCP

I was shocked to discover myself struggling with burnout 15 years into my career as a rural family medicine physician. To alleviate this heartbreak of feeling trapped in a lackluster career, I started painting, drawing and running. This regular dose of neurochemical flow state resulted in decreased stress and cognitive clarity.  

Fascinated by this, I began studying the effects of stress/cortisol on physiology, and certified with the Institute for Functional Medicine to open a holistic membership practice in my rural community.
I continued studying with the Flow Research Collective to learn how to coach flow acquisition and transformative high flow leadership. I infuse these trainings into my patient care and Catalyst™ services for health professionals to learn how to redesign their own creative, efficient, and flow-channeled career.  
I am an international speaker, author, physician and Chief Creativity Catalyst™ on a mission to teach 1 million health professionals how to tap into their own creative flow so they can reclaim a work/life masterpiece of autonomy, ease, and joy in a world where burnout will always exist.
My memoir Right Brain Rescue: One physician's journey from burnout to bliss reveals the creative muse in all of us is available on Kindle, paperback and Audible. My podcast, The Catalyst is available on Apple iTunes, and Spotify.



Catalyst Reclamation™ Course Curriculum
CME information
Faculty and Disclosure information
Dr. Lara Salyer, DO, IFMCP and Nakota Wagner, MBA, and Helen Perks, BSc Nutritional Medicine have indicated they have no relevant financial relationship(s) with ineligible companies to disclose.
It is the policy of the Rush University Center for Innovative and Lifelong Learning to ensure that its CE activities are independent, free of commercial bias and beyond the control of persons or organizations with an economic interest in influencing the content of CE. All individuals who have the ability to control or influence the content of an educational activity must disclose information about all of their financial relationships with ineligible companies within the prior 24 months. There is no minimum financial threshold; individuals must disclose all financial relationships, regardless of the amount, with ineligible companies. Individuals must disclose regardless of their view of the relevance of the relationship to the education. Those who must disclose include (but are not limited to) members of the Planning Committee, speakers, presenters, authors, and/or content reviewers. All information disclosed must be mitigated and then shared with the participants/learners prior to the start of the educational activity.
This course administered via an online teaching platform. In accordance with requirements of the FDA, the audience is advised that information presented in this continuing medical education activity may contain references to unlabeled or unapproved uses of drugs or devices. Please refer to the FDA approved package insert for each drug/device for full prescribing/utilization information.
Rush is a not-for-profit health care, education and research enterprise comprising Rush University Medical Center, Rush University, Rush Oak Park Hospital and Rush Health.
Accreditation Statement:


In support of improving patient care, Rush University Medical Center is jointly accredited by the Accreditation Council for Continuing Medical Education (ACCME), the Accreditation Council for Pharmacy Education (ACPE), and the American Nurses Credentialing Center (ANCC), to provide continuing education for the healthcare team.


Joint Providership Statement:


This activity has been planned and implemented in accordance with the accreditation requirements and policies of the Accreditation Council for Continuing Medical Education (ACCME) through the joint providership of Rush University Medical Center and Health Innate, S.C. (dba Dr. Lara Salyer, DO, IFMCP). Rush University Medical Center is accredited by the ACCME to provide continuing medical education for physicians.


Credit Designation Statements For Medicine:


Rush University Medical Center designates enduring material for a maximum of 10.00 AMA PRA Category 1 Credit(s)™. Physicians should claim only credit commensurate with the extent of their participation in the activity. Successful completion of this CME activity, which includes participation in the evaluation component, enables the learner to earn credit toward the CME of the American Board of Surgery's Continuous Certification program. It is the CME activity provider's responsibility to submit learner completion information to ACCME for the purpose of granting ABS credit. Rush University Medical Center does not share learner data with any other party.
Instructions
In order to obtain credit, each participant is expected to complete the online material in its entirety and complete a quiz at the end of the course with a minimum 80% passing grade. Participants will then evaluate the course and claim credit. The course is expected to take 10 hours to complete. 
Course ID Number: EN556-0823
Release Date: 08/23/2023
End Date 08/23/2025
Estimated Time of Completion: 10 hours
Course Objectives:
Module 1: Introduction
Understand the neuroscience behind burnout and creative flow.
Recognize the powerful importance of creativity and play in daily life.
Explore the gut-brain connection and impact on inflammation
Learn the origins of the AHA! Method™ as a retro-engineered solution to burnout
Module 2: Anchor
Identify core values
Explore the effects of visualization and positive psychology
Craft your personal mission statement for career longevity.
Identify your core support team members
Learn how to "drop an anchor" and connect to your emotions
Module 3: Highlight
Reclaim autonomy by learning how to improve self-efficacy
Practice better boundary setting with the F.A.T. scripting
Learn the difference between "leading" and "lagging" metrics
Redefine personal metrics for "success" to help improve perceived achievement.
Transform your calendar planning with flow-channeled time management
Module 4: Activate
Find your own flow recipe
Set flow enhancers and remove flow blockers
Identify your primary and secondary flow activity
Acquire methods to diminish your self-saboteurs
Learn evidence-based methods to balance cortisol and improve HRV (heart rate variability)
Improve your interoception and tap into energy
Module 5: Creating your Catalyst Culture™
Learn the basics of building a Catalyst Culture that is flow-channeled and anti-burnout
Understand best practices on creating a flow cadence
Gather tips on keeping balance in check for lifelong wellbeing
FAQ's
How long will it take to complete the course?
Depends on how fun you want to have! 😉 There are 6 hours of video content and 4 hours of optional (but encouraged) self-directed activities (journaling, drawing, etc).
I'm really busy. How long will I have access to the course?
I gotchu. There's charts to finish, laundry to fold and kids to drive around. This is why you get a whole calendar year (365 days) to complete the course to get your 10 hours of CME credit (before license expires Aug 23, 2025)
What if I'm unhappy with my purchase?
Life shouldn't come with regrets! But--if you aren't happy (and you've completed no more than 2 modules), you can ask for a full refund within 5 days of purchase.
Do I need creative experience to do this course? (I don't draw, write, sing or dance)
No experience necessary! You ARE creative and you'll adapt the activities to your own benefit. It's a fun excuse to play, wonder, and create!
What does "AHA" stand for in the "AHA! Method"?
As you'll learn, AHA stands for Anchor, Highlight, Activate. It's the solution to find flow in any activity (and the retro-engineering of the burnout equation). Check out the video above to learn more!
Are there any discounts?
Yep! Just submit your name and email for a discount coupon here. (Your address is never shared or sold. You'll automatically receive newsletters which you can opt-out anytime!)
I think my residency/department/staff would LOVE this! Do you offer group discounts?
Absolutely! This CME is a great addition to your next conference or team building activity. It pairs well with a kickoff keynote and group discounts can be arranged! Please email [email protected] for more information.
How do I get the CME credit?
After completing the 5 modules, you'll be invited to take a 47 question quiz. An 80% pass rate is required to unlock the final lesson where you submit your demographic information and receive your CME certificate. You can take the quiz multiple times. (we like to have our norepinephrine for EXCITEMENT not fear!)
I still have a question, how can I reach you?
Please email [email protected]

I feel like we should be friends.
Good. Me too! Sign up for fun newsletters from me here. You can even win prizes!